First album release – with the Linear Obsessional label and available on Bandcamp
New compositions
UNDERCURRENT first Album  release on Bandcamp with the label Linear Obsessional
Savour the Day Sound composition for improvising musicians. Invited by Adam Kinsey to create the piece for Desire Lines, Husk Brewers, London, 2nd Dec 2018. This piece was also performed in February 2019
Sound work 'Las doce en punto y sereno' winner in the Digital Media Category at 'Inspired by' (objects at the V&A) showing at the Morley Gallery 17th May to 17th June 2016.
' Las doce en punto y sereno' (Twelve on the dot and serene). Sound work ,2′ 36 mins duration accompanied by intricate, powder-coated black steel wall hanging.
' Las doce en punto y sereno' (Twelve on the dot and serene). Sound work ,2′ 36 mins duration accompanied by intricate, powder-coated black steel wall hanging.
(more information below)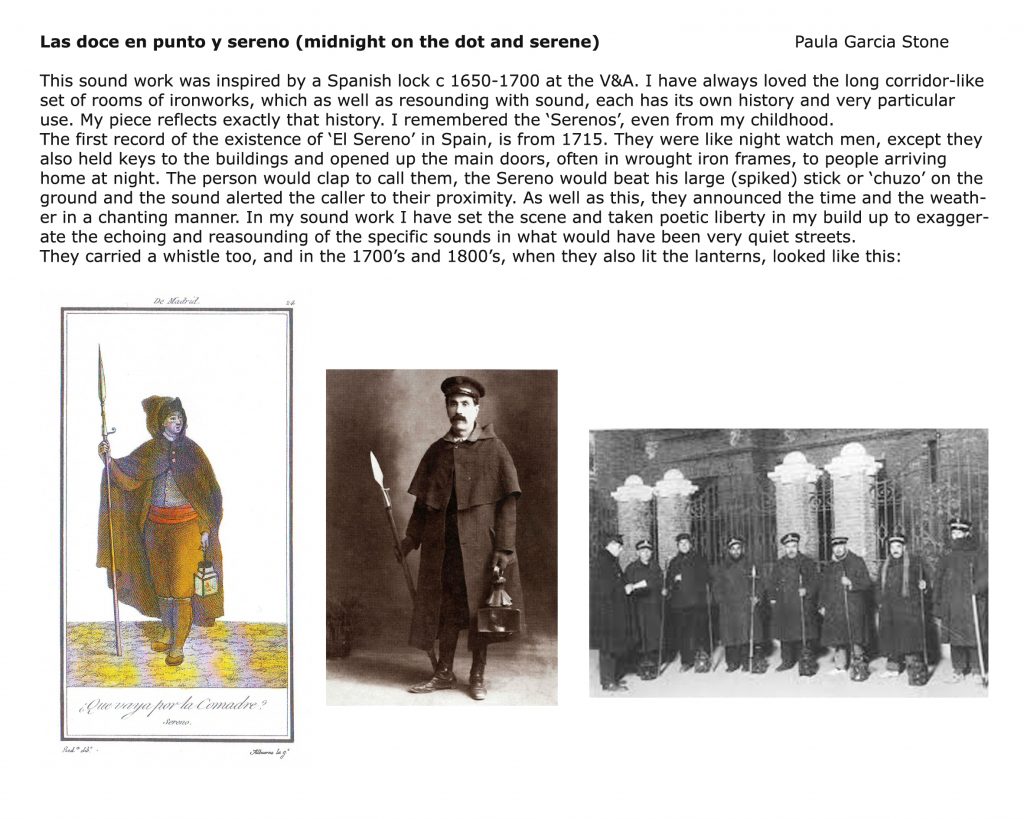 Interview on Sound Out with Carole Finer on Resonance FM, 104.4fm, on 19th April 2016.
Velocipede sketches:
Sound work made for a tricycle but developed on a sonic bike called Erna Schneider Hoover – inventor of the computerised telephone switching system:
Developed for the London Pedalling Games 2015 with the BRI
Although I did not ride this bike myself I made sounds for her after walking in and around the London Fields park, and I aimed to recreate its throbbing vitality, through rhythms built around the sounds in individually assigned activity areas within the park itself – other than the enormous row of bottle banks which sits just outside at the north end – ghostly sounds of past presences…
I like the relationship between Erna's interest in making it possible for people to communicate across the globe more easily and frequently, through computer programming, with what we are doing here with GPS. Her use of 'feedback theory' and centering on the input and output aspects, all relate to working with electronic sound and mapping. It is the spacial connectivity as well as the technical specifications that relate to Erna's invention. Space and time. This circular notion in cause and effect can be felt through the triggering of sounds while choosing to enter the zones by the rider, and I think this is what the public get from riding these bikes. I very much enjoyed meeting and working with the other artists involved in this particular project.
Aug to Oct 2015
Short sound samples:
The Bicrophonic Research Institute (BRI)  invited nine artists and composers to make new sound works for their 'sonic bikes' in Hackney this summer. These pieces were presented at a sonic cycling weekend ~ The Summer Pedalling Games, held in London Fields on 5th and 6th September. The bikes will be available for the public to ride, to hear the sounds, music and stories unfold as you cycle routes through the neighbourhood. Artists: Artur M Vidal, David Henckel, Julian Weaver, Lisa Hall, Michael-Jon Mizra, Natasha Trotman, Paula Garcia Stone, Sherry Ostapovitch and Stephen Shiell with Melaina Barnes & Breathing Space. The stories, noises, interviews, improvised music and songs created a suite of unique sonic cycling experiences for the rider and an interwoven collective orchestra for the passer by.
The Engine Room,  Morley Gallery London.  New composition: 'The drawing room' now online at :http://engineroomlondon.org Also on SoundCloud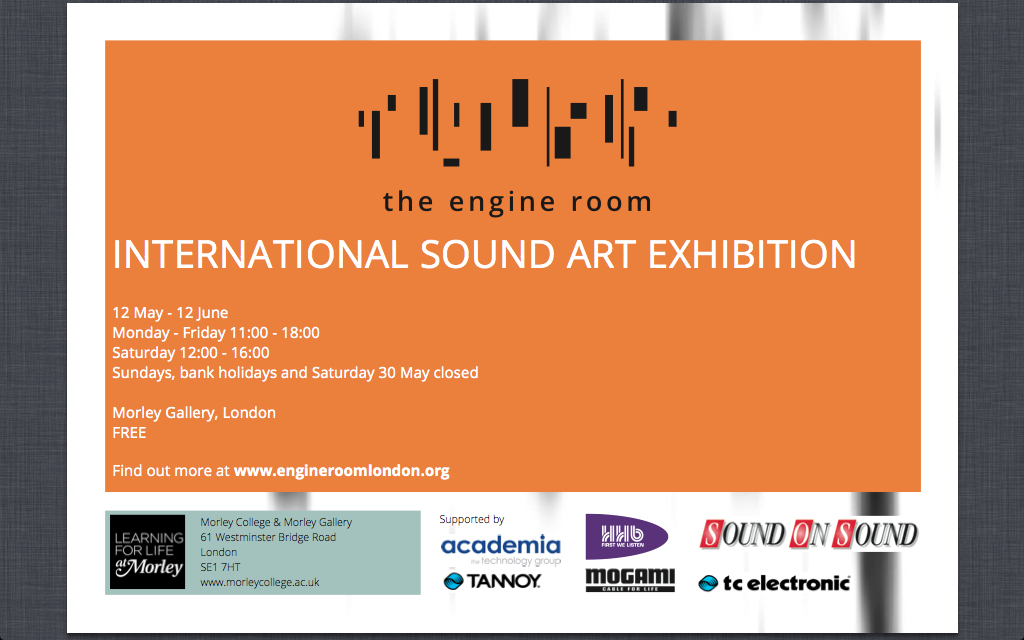 Soundscape at the ONCA Gallery, Brighton, 29 May-05 Jun 2015:
As a city dweller, specifically living in London, where trains are a part of the urban sound environment, I incorporate the city sounds into parallel activities. It is not a solution to sound pollution, but a way of playing with rather than allowing the sounds to be intrusive.
London has a complex network of trains, and the tracks are also used for freight. As there is so much building going on, there is a constant flow of trains going into London and coming out from the centre, often with rubble, passing nearby. There is even a train with nuclear waste going by once a month. These factors are what I address in my soundscape.
'Nunhead; from dusk till dawn is a nocturnal soundscape using my recordings of the freight trains, foxes and birds (which have adapted to the city by singing louder). It is my impression of living in South London near a rail track. In 12 minutes it covers dusk till dawn with a mix of realistic and dreamy sounds. In the night one is suspended in a mind world, free from the body. Sounds enter the ears and images float out with the breath. Strangely, this intermittent interruption of the approaching and then gliding freight trains makes a huge musical and soothing contribution to sleep. The heaving mixes in with deep breathing, the clanking of the wheels on the track, metal on metal, highlights the dramas of a dream not remembered.
one minute is not enough, DVD : finished pieces to date
Ascent   (at Southwark Cathedral) detail, full duration: 4:41
MRI   (inside an MRI scanner) detail, full duration: 2:22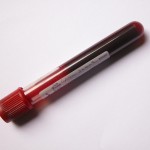 Transplant   (my brief affair with a pancreas) detail, full duration: 7:31
for description of this work go to: http://www.axisweb.org/p/paulagarciastone/
VIDEO/SOUND
view from the terrace         animated soundscape; video (detail) full duration 3:46